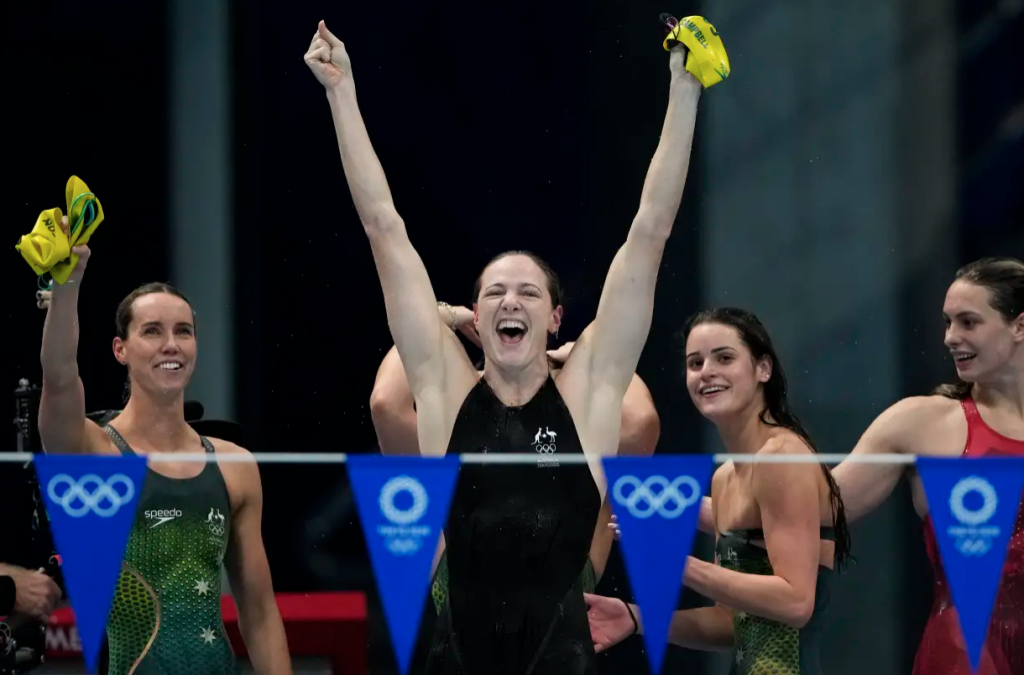 Article by Michael Bleby courtesy of the Australian Financial Review.
The sports supported by Australia's richest person yielded the best results.
Australia's success in three of the five new sports at the Olympics – there were gold medals in the BMX freestyle and skateboarding and a bronze in surfing – helped take our medal tally to its highest since Beijing in 2008.
But as Australia digests the week that was and contemplates how to better it, it's worth pointing out that 11 of the 17 gold medals and one bronze came in disciplines in which the living costs of athletes were not covered by their sporting organisations or government funding, but were paid for by one benefactor alone: the country's richest person, Gina Rinehart.
The second weekend of the delayed Tokyo 2020 Games kept the momentum of the first week going, when swimmer Emma McKeon became Australia's most successful Olympian, with a career tally of 11 medals. On Sunday, Australia had a record haul four gold medals in one day when sailor Matt Wearn won the Laser competition, Logan Martin took top honours in BMX freestyle, Emma McKeon won the 50 metre freestyle and the women's relay team won the 4x100m.
In high-performance sports where time is money, the funding allows athletes to focus on training and not worry about paying their rent; or it gives them the breathing space to study, to prepare for a post-competition career. This is a crucial but little-discussed piece of the equation in the sporting success that the country celebrates.
While the largesse, thought to total $2 million, offered by the iron ore billionaire is welcome and gratefully received by athletes, it shows up the precarity of the structures underpinning our elite athletes.
"I don't say this lightly, but Gina Rinehart saved swimming," three-time Tokyo medallist Cate Campbell tells AFR Weekend this week from Tokyo.
After a poorer-than-expected result at the London 2012 Olympics and negative press around the team, many sponsors withdrew funding to Swimming Australia, which had until that time helped athletes out with personal expenses funding, Campbell says.
At that point Rinehart, long a backer of swimming in WA, offered funding.
"Gina Rinehart stepped in. She made funds available that went directly to athletes. This allowed many athletes – myself included – to see that there was a future career in swimming for us. I'm not sure where a lot of swimming careers would have ended up if there hadn't been this injection of funds."
Equestrian Andrew Hoy showed you can still pull in Olympic medals at 62 – he has an 85-year-old coach – and says he has Paris 2024 in his sights.
And there was disappointment. The handlebars – not the wheels – came off cyclist Alex Porter's bike in the men's team pursuit qualifying round, sending him flying to the ground at 65 km/h and scuppering Australia's chance of taking gold, but the team did recover to win the bronze.
AusCycling said it was investigating the equipment failure.
The Matildas lost to Sweden in the women's soccer semi-final, then lost their bid for bronze to the US in Thursday night's showdown. In the men's hockey, a gut-wrenching penalty shootout defied Australia's hopes for gold and gave Belgium the victory.
Looking to future Games
As thoughts turn to the next Games, Paris 2024, and then to Los Angeles in 2028 and, of course, Brisbane 2032, the question is how we can better our best Olympic performance in more than a decade.
Rinehart also funds indoor and beach volleyball, rowing and artistic (previously known as synchronised) swimming.
In swimming, she provides funding on three tiers to athletes. Tier 1, Olympic-level athletes such as Campbell receive about $32,000 a year. Two lower tiers provide funding to athletes on the cusp of making the national team and to others with promise.
Campbell, who readily admits she has a string of commercial endorsements that make her one of our best-paid swimmers, says the Rinehart money is more than the total of all the other grants she receives in incentive funding from the Australian Olympic Committee and Australian Institute of Sport's Dais funding program.
"I don't want to discredit the funding that we receive from government or the AOC but what the injection from Gina Rinehart does is gives us a sense of stability," Campbell says. "And allows us to prepare for the future a little bit more."
Sport funding is a long-term game, with results not seen until two to three years after the investment. Predictable income is crucial to keeping athletes in sport and McKeon, who at 27 is Australia's most successful Olympian, has stayed in the sport three years longer than Ian Thorpe, the previous holder of that record, who retired at 24.
But it's also about fair treatment of the people who invest years of their life, without receiving super contributions when playing for Australia, to work for medals that the whole country celebrates.
Gold medal-winning rower Lucy Stephan said the win of her coxless four team would not have been possible without Rinehart's support for the sport in which she trained three times a day, six days a week.
"A few of us have a few little jobs and most of us are studying or have something outside – obviously that's important – but it has meant that for us to support ourselves with our rent, bills to pay, that's where Mrs Rinehart comes in, and we definitely wouldn't be able to do it without her."
Crucial to that is reforming the funding that supports the sports and the athletes preparing in them.
Australian Sports Commission chairwoman Josephine Sukkar says the ASC's previous Winning Edge policy, widely criticised for tying funding to medal outcomes at international events, came before the current focus on athlete well-being that she says has underpinned decision-making since before she took the role.
However, she says, sports will need to become more reliant on private sponsorship.
"The way things are going with COVID, I can't imagine there being a significant spike in federal funding," Sukkar tells AFR Weekend.
"There are a lot of lazy balance sheets. If we position ourselves well as sports, and as national sporting organisations, sponsors will come on board."
More sports need to become what she calls "sponsorship-fit", and Sukkar hopes they will get help to do that from the Australian Sports Foundation, chaired by former Woolworths chief executive Grant O'Brien.
Campbell, in contrast, wants a future when athletes are not reliant on either philanthropy or sponsor contracts, but can compete in sports that are commercially successful enough to support the individuals.
Swimming is already going down this route. Earlier this month it announced a separate new collaboration with privately owned Australian Swimming League. The company, headed by Stuart Coventry, the former head of the Big Bash League team Melbourne Renegades, will create a made-for-broadcast professional league, in which licensed clubs draft players to represent them. It is due to kick off late next year.
It will be the local equivalent of the International Swimming League, a globally run private competition started in 2019 by Ukrainian billionaire Konstantin Grigorishin, in which a number of Australia's largest swimming names, including Campbell, have already starred.
"I'd like to reach a point where athletes can stop relying on getting contracts that will cover their expenses and allowance living," Campbell says. "Ultimately, it's a professional sport."