Article by Will Swanton courtesy of The Australian.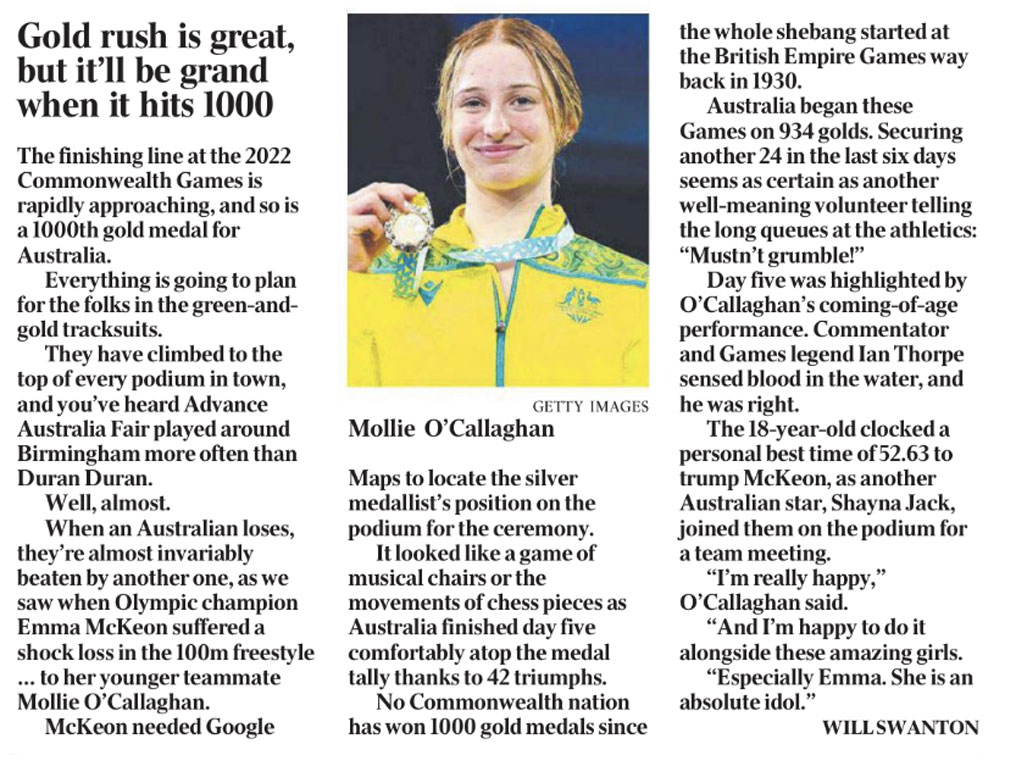 The finishing line at the 2022 Commonwealth Games is rapidly approaching, and so is a 1000th gold medal for Australia.
Everything is going to plan for the folks in the green-and-gold tracksuits.
They have climbed to the top of every podium in town, and you've heard Advance Australia Fair played around Birmingham more often than Duran Duran.
Well, almost.
When an Australian loses, they're almost invariably beaten by another one, as we saw when Olympic champion Emma McKeon suffered a shock loss in the 100m freestyle … to her younger teammate Mollie O'Callaghan.
McKeon needed Google Maps to locate the silver medallist's position on the podium for the ceremony.
It looked like a game of musical chairs or the movements of chess pieces as Australia finished day five comfortably atop the medal tally thanks to 42 triumphs.
No Commonwealth nation has won 1000 gold medals since the whole shebang started at the British Empire Games way back in 1930.
Australia began these Games on 934 golds. Securing another 24 in the last six days seems as certain as another well-meaning volunteer telling the long queues at the athletics: "Mustn't grumble!"
Day five was highlighted by O'Callaghan's coming-of-age performance. Commentator and Games legend Ian Thorpe sensed blood in the water, and he was right.
The 18-year-old clocked a personal best time of 52.63 to trump McKeon, as another Australian star, Shayna Jack, joined them on the podium for a team meeting.
"I'm really happy," O'Callaghan said.
"And I'm happy to do it alongside these amazing girls.
"Especially Emma. She is an absolute idol."