Article by Peter Law courtesy of the West Australian.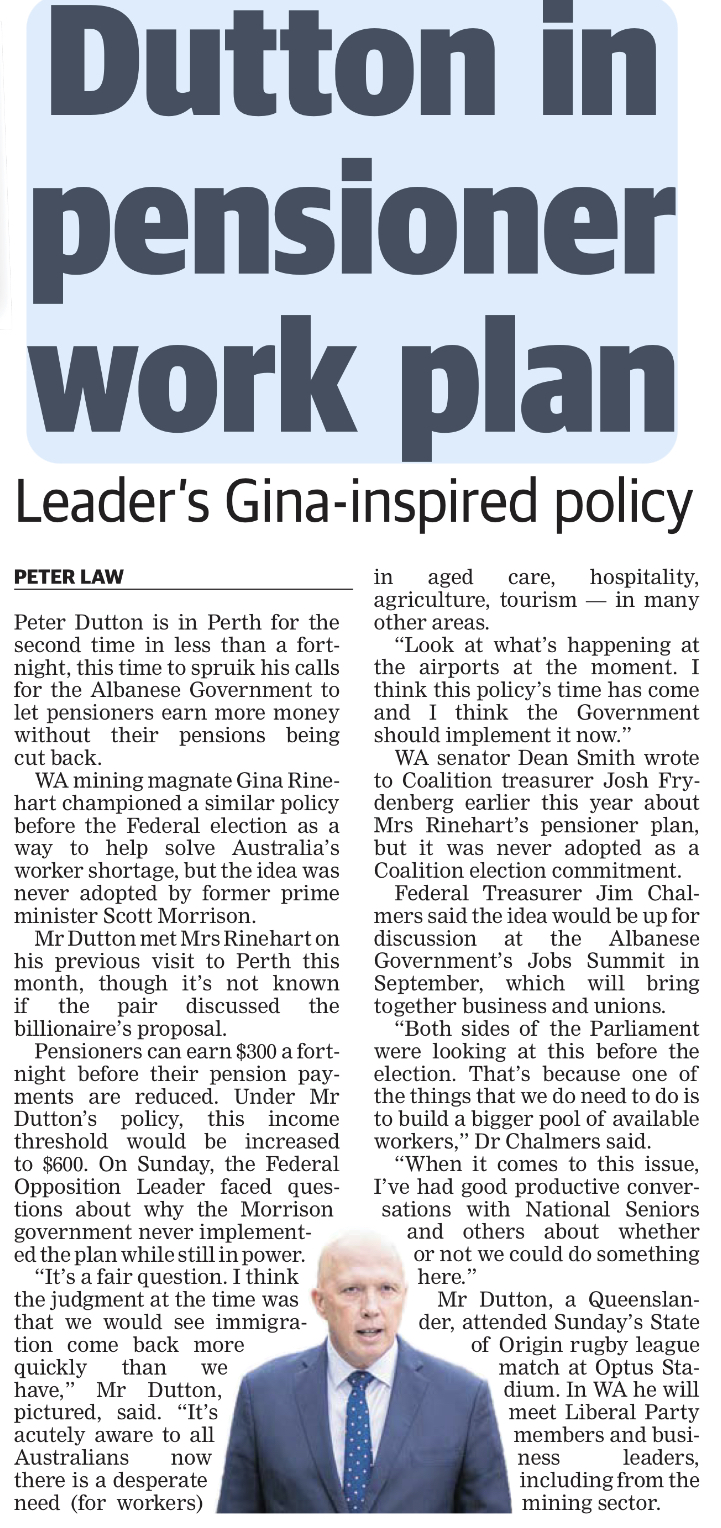 Peter Dutton is in Perth for the second time in less than a fortnight , this time to spruik his calls for the Albanese Government to let pensioners earn more money without their pensions being cut back.
WA mining magnate Gina Rinehart championed a similar policy before the Federal election as a way to help solve Australia's worker shortage, but the idea was never adopted by former prime minister Scott Morrison.
Mr Dutton met Mrs Rinehart on his previous visit to Perth this month, though it's not known if the pair discussed the billionaire's proposal.
Pensioners can earn $300 a fortnight before their pension payments are reduced.
Under Mr Dutton's policy, this income threshold would be increased to $600.
On Sunday, the Federal Opposition Leader faced questions about why the Morrison government never implemented the plan while still in power.
"It's a fair question. I think the judgment at the time was that we would see immigration come back more quickly than we have," Mr Dutton, pictured, said.
"It's acutely aware to all Australians now there is a desperate need (for workers) in aged care, hospitality, agriculture, tourism — in many other areas.
"Look at what's happening at the airports at the moment. I think this policy's time has come and I think the Government should implement it now.
"WA senator Dean Smith wrote to Coalition treasurer Josh Frydenberg earlier this year about Mrs Rinehart's pensioner plan, but it was never adopted as a Coalition election commitment.
Federal Treasurer Jim Chalmers said the idea would be up for discussion at the Albanese Government's Jobs Summit in September, which will bring together business and unions.
"Both sides of the Parliament were looking at this before the election.
That's because one of the things that we do need to do is to build a bigger pool of available workers," Dr Chalmers said.
"When it comes to this issue, I've had good productive conversations with National Seniors and others about whether or not we could do something here."
Mr Dutton, a Queenslander , attended Sunday's State of Origin rugby league match at Optus Stadium .
In WA he will meet Liberal Party members and business leaders, including from the mining sector.